Associate Degrees in Cosmetology
Education Levels of Cosmetology Majors
In 2020-2021, 1,173 associate degrees were awarded to cosmetology majors. This earns it the #25 spot on the list of the most popular associate degree programs in the nation.
The following table shows the number of diplomas awarded in cosmetology at each degree level.
Earnings of Cosmetology Majors With Associate Degrees
The median salary for graduates holding an associate degree in cosmetology is $18,219. A lot of factors can contribute to this number, such as the location of your workplace and the availability of other perks and bonuses. A better approximation of salary is to look at the typical range of salaries. In this case the low is $13,433 and the high is $19,967.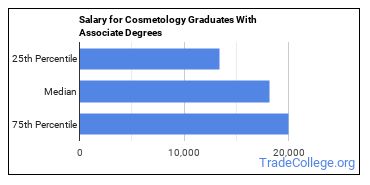 Student Debt
The median student debt for graduates holding an associate degree in cosmetology is $15,591. The school you go to and how long it takes you to graduate, among other things, can cause this number to vary. The chart below shows the range of accumulated debt loads. On the high side of the range, $15,685 is the debt load, and the debt load on the low side is $12,125.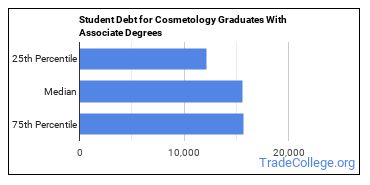 Those students who are paying back their debt on a 10-year repayment plan have a median monthly payment of $424.
Student Diversity
More women than men pursue their associate degree in cosmetology. About 96.9% of graduates with this degree are female.
| Gender | Number of Grads |
| --- | --- |
| Men | 36 |
| Women | 1,137 |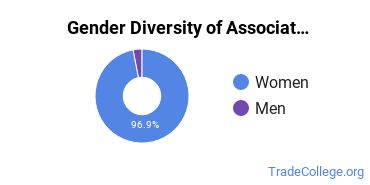 The racial-ethnic distribution of cosmetology associate degree students is as follows:
| Race/Ethnicity | Number of Grads |
| --- | --- |
| Asian | 44 |
| Black or African American | 175 |
| Hispanic or Latino | 289 |
| White | 543 |
| International Students | 22 |
| Other Races/Ethnicities | 100 |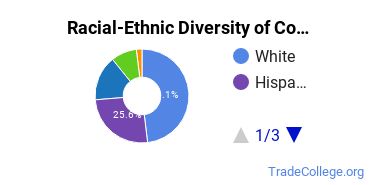 Most Popular Cosmetology Programs for Associate Degrees
There are 155 colleges that offer an associate degree in cosmetology. Learn more about the most popular 20 below:
Cosmetology Concentrations
Related Majors
Below are some popular majors that are similar to cosmetology that offer associate degrees.
References
*The racial-ethnic minority student count is calculated by taking the total number of students and subtracting white students, international students, and students whose race/ethnicity was unknown. This number is then divided by the total number of students at the school to obtain the percentage of racial-ethnic minorities.
More about our data sources and methodologies.